This week at
Twist of Faith Cards
... we have a
LOVE CHALLENGE
... it doesn't have to be a valentine, there are many other occasions to share love! And of course, your creation must contain a scripture or inspirational verse.
We are sponsored by the wonderful
Michelle Perkett Studio
, and I can't do anything BUT love Michelle's images and artistry! I created my card using the
Love is Patient (expired) Freebie
and roses from the
Roses Heart Proverb
image...
I printed the
Love is Patient
image on white cardstock, cooured the heart with red gitter pen, and trimmed it to size. I also printed the
Roses Heart Proverb
and coloured the roses using Marvy markers. I took some lengths of thin gold cord, tied a simple knot in each, and added them to the image layer.
I fixed the image to a mat of red cardstock, then fixed it directly to a white card base.
What of the roses? Well, the original image looks like this: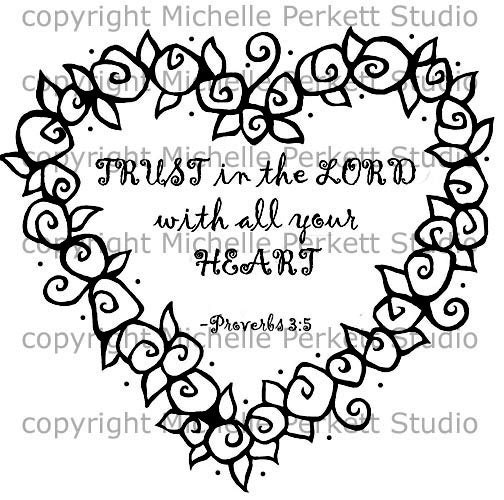 Gorgeous, isn't it? I had to find a project that would require me to snip away at those flowers, and I thought that this was the perfect one! I took a guess at how many roses I needed, and snipped away... not individually, I cut them into sections, to fit the corners of the Scripture frame. They are fixed with DS tape, and some of them overlap others, so there is a little dimension here and there... I just love that the roses are so vivid red! Just like those gorgeous velvet red roses...
This card is entered into the challenges at:
Word Art Wednesday
#66 Anything Goes (13/2)
Love To Create
#52 Feelin' The Love (17/2)
Digi Makeover Challenge
#75 Photo Inspiration (17/2)
Sentimental Sundays
#141 Love Is In The Air (17/2)
Craft Your Passion
#149 My Valentine (18/2)
Creative Creations
- #3 It Must Be Love (18/2)
Scrapper's Delights
- Black, White, Splash of colour (24/2)
V's Sweeet Ideas
- #8 Love (1/3)
I hope you'll join with us in our Twist of Faith challenge this week, and spread some
LOVE
! Thanks for peepin'!