Our home has a need for assisted non verbal communication. As well as the methods of using pictures that we already use, I am always on the look out for themes, inspiration and the like. I often visit blogs and sites for primary school teaching ideas, because the pictures are fab, and there are so many ideas and methods I may not have considered using. Even if they have been purposed for mainstream, there is always a way that I can adapt a method or idea to suit our own needs.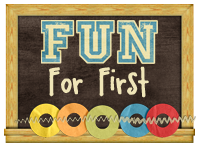 One of the blogs I like to visit, is called
Fun for First
, and is a blog dedicated to first grade little people. This site is well worth a visit, with a cuppa.... there's so much to see!
Anyway, at the moment, they have a giveaway.... a gift certificate from
KPM Doodles
, for 3 combo sets of clip art (that's a coloured set, and a black/white line set) or 6 black/white line sets! Awesome! What is so fabulous about this? I recently stumbled across
KPM Doodles
, and am so in love with Kirsten's designs! They are AWESOME!
Here's a sample of the fab items you'll find at KPM Doodles .... and you'll find a St Patrick's Day creation using KPM Doodles too, right here on my blog!
The giveaway ends March 28th, at 1.30pm US mountain time, so if you want to know more about this giveaway, follow the link to the post about it
here
....
Thanks for peepin'!